by Jim Wogan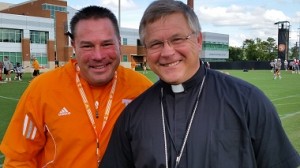 Matching a meeting between East Tennessee's Catholic bishop and the head football coach at the University of Tennessee isn't easy, but thanks to some UT hospitality, Bishop Richard F. Stika got a chance to spend a few minutes with Vols head coach Butch Jones during practice Wednesday on the UT campus.
"Nice to meet you." Jones said to Bishop Stika as the Tennessee head coach sprinted from the middle of a practice drill to shake hands with the spiritual leader of more than 65,000 Catholics in the Diocese of Knoxville.
Both men are busy.  Jones is starting his second season as Tennessee's football coach.  Bishop Stika recently celebrated his fifth anniversary in Knoxville.
Jones and the bishop shared some football talk as the Vols prepare to take on Arkansas State in the second game of the season on Saturday.  As quick as that, Jones was back to coaching– and directing his team with his trademark microphone and in-your-face style.
Bishop Stika, a St. Louis native, also exchanged a handshake and a quick hello with former St. Louis Ram Terry Fair.
Fair played for the Vols from 1994-1997.  He is now an assistant coach on Jones' staff.
"I am very impressed with Butch," said Bishop Stika.  "He is a very genuine person and I am grateful to the Tennessee football program allowing me visit practice– and with the time Butch took to say hello."
The Vols beat Utah St. in their season opener Sunday night.